Save 20% off every order for your first two months.

What Is Wet Cleaning?
We've all heard of dry cleaning, but have you heard of wet cleaning? It's a water-based alternative to dry cleaning, but it isn't the same as cleaning your clothes in your home washer and dryer. Wet cleaning uses computer-controlled washing-machines, biodegradable conditioners and soaps, and utilizes specially designed, moisture-sensitive dryers to finish the process. Wet cleaning also uses water – which is a universal solvent – instead of chemicals.
Unlike regular laundry services, wet cleaning can be used on delicate and persnickety fabrics like wool, cashmere, silk, and other fine delicates.
The Benefits of Wet Cleaning
No chemical odors or residue

Gentler than hand washing

Fresh, clean scent

Soft to the touch

Gentle on sensitive skin

Safe for your clothing

Better for removing "personal" stains

Milder than home laundry products

Kees colors vibrant longer

Whiter whites

Easy on the environment
According to the Environmental Protection Agency (EPA), the most environmentally sensitive method of professional garment cleaning is wet cleaning. There are no hazardous chemicals used, it does not produce hazardous waste, there is no air pollution created, and it reduces the potential of water and soil contamination. 
Many garments labeled "Dry Clean Only" may be cleaned by wet cleaning instead. The makers are simply labeling the garment as unsafe for regular laundry. Ask us about your dry-clean-only garments – we'd be happy to point out the ones that could benefit from wet cleaning. 
There are some cases where wet cleaning may not be the best choice for your garments. Certain stains – especially oil-based ones – are less likely to come out with wet cleaning as opposed to dry cleaning. If we examine your garments and determine that dry cleaning may be a better option, we will call and let you know and make sure you're comfortable with dry cleaning the garment instead.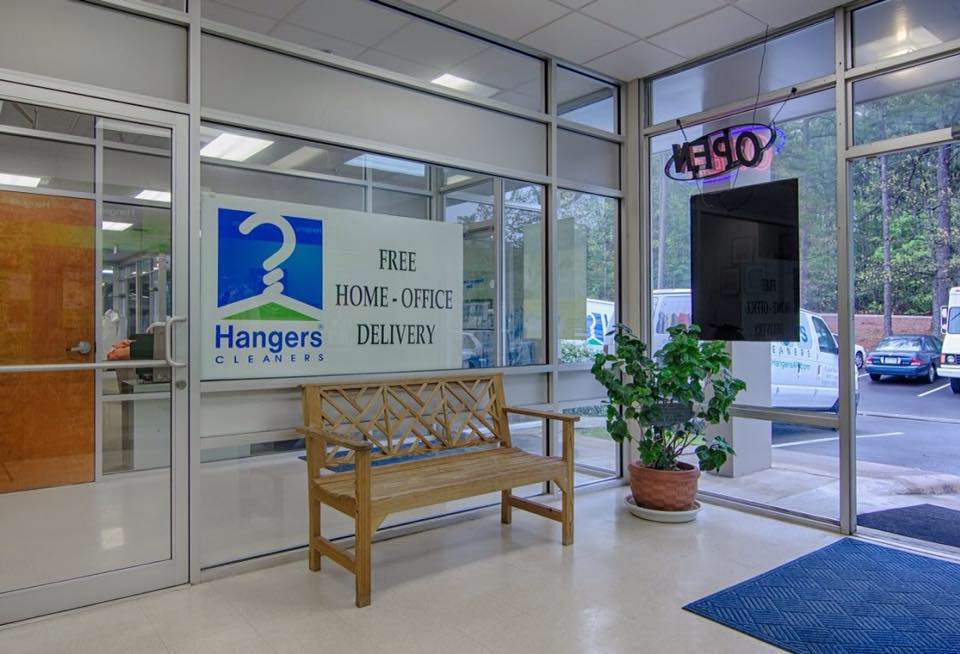 Is Wet Cleaning a New Cleaning Process?
If you're worried about submitting your favorite items to an experimental cleaning process, have no fear! Wet cleaning has actually been around for over 25 years. While it was previously dismissed as a true competitor for dry cleaning, wet cleaning has slowly been gaining popularity and praise – especially as consumers are coming to care more about their environmental impact. 
The professional wet cleaning process was developed by Kreussler and Miele in the 1990s. Kreussler was a textile chemistry company and Miele was an equipment company – talk about a symbiotic relationship! Together they innovated a new, sustainable way for professional cleaners to process their customer's garments. 
Hangers professional wet cleaning uses innovative technology to determine the precise balance of water, agitation, and heat needed to clean difficult stains from your clothes while maintaining the same perfect fit and bright colors you expect.
Delivery and Pick-Up Service
Don't feel like driving all the way in to have a few items cleaned? No problem! That's why we offer pick-up and delivery services for our laundry, dry cleaning, and wet cleaning clients. And because we are obsessed with providing meaningful value to our customers, this service is absolutely 100% free! We offer several options from which to choose:
Scheduled
Based on your delivery area, we offer set pick-up days. Just leave your bag on the front porch, let us know it's there, and we'll get it picked up!
On-Call
Log in online or on the mobile app to schedule a pickup on your set day or call us at (501) 227-8500.
Delivery Only
You can also drop off your cleaning while you're out running errands and then we'll deliver it back to your home when it's ready!
If you have any questions about wet cleaning or any of our other laundry and cleaning services, Contact Hangers Cleaners in Little Rock! We're happy to answer any questions and help you schedule a pick-up or delivery service time that works for you.
We know that your life is busy. We try to make things a little bit easier for you by offering free dry cleaning delivery and pickup. Yes, that's right. We even include pickup. If you are a returning customer, login here. If you are a new customer, click below to sign up.